Autumn 2018 MS MasterClass project winners announced
News
---
---
Congratulations are thoroughly deserved by our latest MS MasterClass project winners. The most recent cohort of delegates to complete their intermodule projects met last night at their Awards dinner during this Autumn MasterClass course.

MS specialist nurse Daisy Cam won the Project Award for her research into the use of alternative therapies in treating MS. Mrs Cam's project reviewed the benefits of acupuncture in managing MS-related pain, prompted by the startling statistic that whilst up to 68% of people living with MS experience pain (MS Trust 2011), there does not yet seem to be a single medication or treatment that works across all MS-pain types (Finnerup et al: 2005).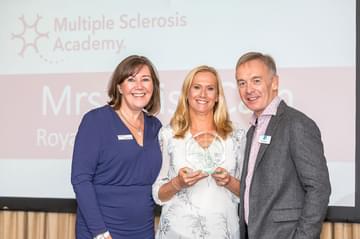 Mrs Daisy Cam, award winner MasterClass 4
Two runners up were also recognised last night for their very different but equally valuable research projects. Dr Karen Chung's work evaluated the possible patient population suitable for treatment with Ocrelizumab within a tertiary referral centre. Ocrelizumab is the first disease-modifying therapy (DMT) to reduce disability progression in people with primary-progressive MS, and is under review with the National Institute for Health and Care Excellence (NICE) at present. In a very different vein, Dr Sivaraman Nair's project developed and tested a tool to review the unmet needs of people with MS.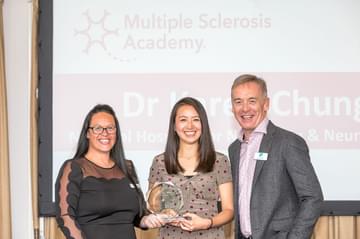 Dr Karen Chung, MasterClass 4 runner up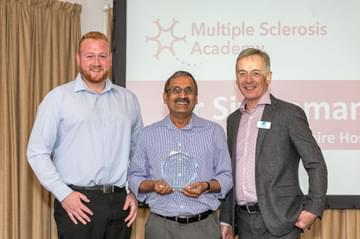 Dr Sivaraman Nair, MasterClass 4 runner up
To find out more, read a quick snapshot of their respective work here:
If you're interested in the previous year's winning research, or the other intermodule projects, you can find all of them on our site.
Encouraging excellence, developing leaders, inspiring change
MS Academy was established five years ago and in that time has accomplished a huge amount. The six different levels of specialist MS training are dedicated to case-based learning and practical application of cutting edge research. Home to national programme Raising the Bar and the fantastic workstream content it is producing, this is an exciting Academy to belong to.