Identifying the Unmet Needs in patients with Multiple Sclerosis: developing the LUN-MS questionnaire
---
By
Dr. Krishnan Padmakumari Sivaraman Nair, Charlotte Kirkland, Dr. Esther Hobson
---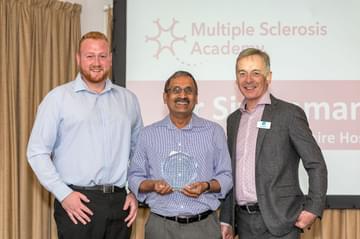 Dr Sivaraman Nair, MasterClass 4 runner up
Multiple sclerosis causes gradually worsening physical and cognitive disability. Due to the complex manifestations of this disorder, patients often have a spectrum of needs. There are currently gaps in provisional services to meet physical, psychological and social needs. The LUNS is a 21-item questionnaire which is valid and reliable in assessing the unmet needs in stroke. The present study aimed to develop a modified version (the LUN-MS) and test its reliability and acceptability in MS and identify the most unmet needs.
Phase 1 involved triangulation of data from three sources; the literature, a clinician's survey, and patient-public involvement. A list of 43 MS related needs was constructed and a 46-item LUN-MS questionnaire developed. In Phase 2, 20 MS patients were given the 46-item LUN-MS, and asked to identify 10 needs that were important, and 10 needs that were unmet. This allowed the LUN-MS to be revised to a 29-item questionnaire. In Phase 3, 43 participants were recruited to complete the LUN-MS, MSIS-29 and a satisfaction questionnaire at two time points, two to four weeks apart. The intra-rater reliability of each LUN-MS item was tested (n=25), with all items having a percentage agreement above chance (>50%). 19 items also had a statistically significant kappa agreement (k>0.5, p<0.05). The satisfaction questionnaire confirmed the acceptability of the LUN-MS. Information about treatment and trials and fatigue were identified as the most unmet needs. Qualitative feedback suggested that the LUN-MS needs further adaptations before it can be routinely used.
In a future study, the LUN-MS should be modified and re-tested on a larger sample. This tool could then be used to monitor needs in MS, and identify gaps in provisional services. This is the first step to improving the MS service in the UK, leading to an increased quality of life for patients with MS.
More MS Academy Comprehensive care Projects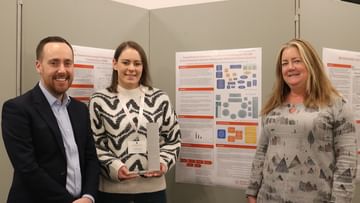 Encouraging excellence, developing leaders, inspiring change
MS Academy was established five years ago and in that time has accomplished a huge amount. The six different levels of specialist MS training are dedicated to case-based learning and practical application of cutting edge research. Home to national programme Raising the Bar and the fantastic workstream content it is producing, this is an exciting Academy to belong to.