Supporting education and understanding in Lewy body disease
News
---
---
Jacqui Cannon, chief executive of the Lewy Body Society, talked to Neurology Academy about the charity's mission, focus, and recent experiences supporting education amongst healthcare professionals.
The Lewy Body Society, established in June 2006 in the UK, was the first charity in Europe exclusively concerned with Lewy body dementia (LBD) and focuses on information provision and research support. Their mission, she says, is to raise awareness.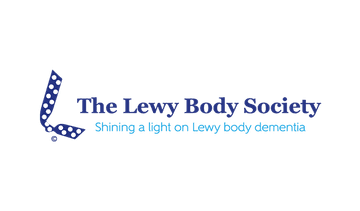 'Everyone thinks that Lewy body dementia is a rare dementia. It isn't. In people over the age of 80 it's the second most common type of dementia after Alzheimer's. In people under 80 it's the third most common, behind Alzheimer's and vascular dementia.'
Until recently, their work in awareness raising has been predominantly aimed at the general public, and within families of those experiencing LBD, with their input into the medical profession primarily through their research funding, much of which is carried out via their specialist advisory committee of experts in the field.
However, lately the charity has moved into awareness raising within healthcare professionals. Through partnership with Dementia UK and supported funding of Admiral nurses, they have now fully funded an Admiral nurse for LBD who has in turn upskilled the other Admiral nurses in supporting people with LBD. This has the added benefit of enabling them to support people with other types of dementia in symptoms often experienced by those with LBD such as hallucinations.
Jacqui highlights that, as with many neurological conditions, everyone's journey with LBD will be different, everyone's experience of the condition is unique - and Admiral nurses are very well equipped to support people as individuals, where they are, whether living with LBD or caring for someone who is.
Professional education
Their most recent move into awareness raising for healthcare professionals was in partnering with Neurology Academy to provide the Lewy Body MasterClass - the first bespoke educational event for LBD of its kind.
The MasterClass was, for Jacqui, a brilliant way to share information with healthcare professionals around LBD, the importance of early diagnosis, how it differs in presentation with other forms of dementia, and the tools available to them.

'It was such a great way to get information out to medical professionals so people don't get misdiagnosed. Some people might ask if it matters, getting misdiagnosed. But it does.
There are some drugs that people with LBD can't tolerate, and we know that people with LBD are more likely to be hospitalised, and more likely to require a higher care element - we need to prepare families for this.'
Jacqui explained that, seeing delegates engage with the information, inspired by experts in their field and equipped with tools and knowledge to improve their practice, was highly encouraging.

'What we want is that, if a medical professional has someone sitting before them presenting with these symptoms, they consider LBD. So many people get misdiagnosed. 51% of people with a diagnosis of Lewy body dementia will have had a previous diagnosis. That might be Parkinson's or another dementia - vascular or mixed dementia.'
Jacqui speaks from personal experience. Her father had Lewy body dementia and the family encountered many senior healthcare professionals who didn't know about LBD, an experience which inspired Jacqui to get involved with the new charity as a volunteer, later becoming its first CEO.

'People seemed invested in the course - wanting to learn and to go back and share that knowledge with their colleagues, which is brilliant. A lot of people said they were going to use the DIAMOND Lewy toolkit in practice, for example.
We know that healthcare professionals find diagnosing LBD difficult, and if we can share the DIAMOND Lewy toolkit with them, it takes some of that challenge away. Making professionals aware of the tools and information available can make a big difference to their practice.'
Part of the difficulty in understanding LBD is linked to the difficulty around dementia as an umbrella term. Describing LBD as 'the most common dementia you've never heard of', Jacqui compared dementia treatment and support with that of cancer.

'If a person has a diagnosis of cancer, you immediately want to know what type. You can't treat breast cancer the same as prostate. The kind of cancer affects the treatment. This is absolutely true of dementia, too.'
The DIAMOND Lewy toolkit is not only a support for assessment and diagnosis, but for management as well with resources for in-depth symptom management as well as an overview for 'at-a-glance' understanding (fig 1).
Figure 1: Management overview: synopsis of major symptoms in Lewy body dementia and their management from the DIAMOND Lewy toolkit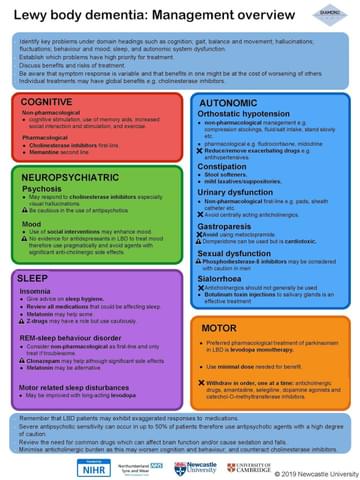 Future plans
The Society supports people with Lewy body dementia in two core ways - through information and through research support. The charity will be going live with a new grant round in January 2022 and are accepting proposals for LBD research.

'Any research is good research - and it doesn't need to always be medical, it might be qualitative, it might be with carers… We're supporting a small project looking at different scanners at the moment. When there's so little known about a condition, all information is good information.'
The Lewy Body Society is leading on one of the two strands forming June 2022's International Lewy Body conference in Newcastle. Running from 15th-17th, the conference will be open to in-person or virtual attendance, and whilst the Society is supporting the strand for people affected by Lewy body dementia, 'Living with Lewy', the other strand is a scientific one and ideal for healthcare professionals who want to learn more about LBD.
With representation across Europe and the United States, the conference offers a good opportunity to connect with and learn from others, hear the latest from the research field - or submit an abstract of your own work - and be inspired to assess and improve personal practice within LBD diagnosis and management.
Jacqui was also clear that, after the positive impact of the Lewy body MasterClass this November, the Society is keen to continue supporting healthcare professionals' education in assessment, diagnosis and management of LBD. With over 100 healthcare professionals expressing an interest in a future event, and speakers offering continued support in the future, there are hopes of replicating the course in 2022.
(A conference report for the Lewy Body MasterClass will be published in the journal 'Advances in Clinical Neuroscience and Rehabilitation (ACNR)' later this month)
Lewy Body Academy
Focussing on dementia with Lewy bodies (previously known as Lewy body disease), and Parkinson's disease dementia, this specialist training ensures people with these dementias do not fall through the gaps in care.