Our first ever Lewy body MasterClass – a success!
Event reports
---
---
Last week saw the first ever MasterClass from our new Lewy Body Academy. Supported by an educational grant from the Lewy Body Society, the course was delivered in collaboration with Lewy Body Ireland.
With so little chance for networking over the past year or so due to the pandemic, our MasterClass began with an opportunity to connect with colleagues over a formal dinner. The evening featured guest speaker Lesley Magee, a renowned Northern Ireland-based musician and ambassador for the Lewy Body Society whose father was diagnosed with LBD in recent years.
The MasterClass, aimed at clinicians working with older adults at risk of, or living, with dementia, was attended in person by 30 geriatricians, old age psychiatrists, neurologists, clinical nurse specialists and allied health professionals (fig 1).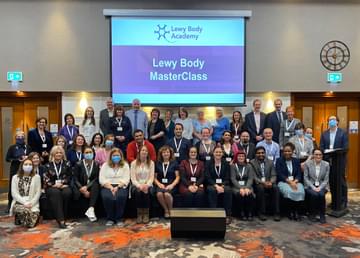 Figure 1: The Lewy body MasterClass - delegates and speakers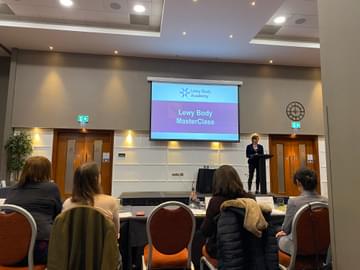 Figure 2: Prof Iracema Leroi
Figure 3: Tweet from Kitty Wake (@LewyLady), Founder and Chair of Trustees for the Lewy Body Society
Some sessions were conducted in lecture style, whilst others were case-based discussions, encouraged by the layout of the room, with all attendees seated in a horseshoe.
Supported by Lewy Body Society and the Lewy Body Dementia Association, the MasterClass featured a session highlighting the value of the voluntary sector and the community support available for families affected by Lewy body dementia. There was also a valuable panel discussion midway in the programme considering the importance of care pathway planning for Lewy body dementia, from diagnosis through to the end of life, with a range of experts sharing their own experiences.

Delegate feedback
"Very clinically relevant to my practice"

"Great sessions, interactive discussions, good peer interaction and networking"

"Chance for discussion and learning from peers, very useful, highlights huge variability in services"

"Very clear and concise, and informative. Good treatment strategies discussed."

"Good interactive sessions with real life cases."

"Very helpful to have all these contacts and knowledge of peer support."

"Good to make clinicians aware of support programmes and referral for PT's, good way to end the day, an element of hope and support."

"Excellent links provided which I will be using in practice."

Lewy Body Academy
Focussing on dementia with Lewy bodies (previously known as Lewy body disease), and Parkinson's disease dementia, this specialist training ensures people with these dementias do not fall through the gaps in care.