Parkinson's pathway
---
By
Dr Kawa Amin, Broomfield Hospital & Dr Victoria Henstridge, Southend Hospital
---
PD is the second most common neurological degenerative disorder after Alzheimer's dementia and the ageing population is massive in this area (21% of general population [Southend-on-sea council, 2010] are above the age of 65 years and will continue to increase in size).
Patients currently receive uncoordinated care and there is no clear pathway for GPs in referring PD patients to the appropriate service. Acute medical and surgical teams within SUH also need to know where further advice and consultation can be obtained when it is needed.
This resulted in more patients using emergency care with no coordinated care after discharge in terms of follow up. From last April til 31 April 2012, there were 451 admissions due to PD directly or indirectly.
In comparison to a total 175 patients reviewed in outpatient departments by a consultant with special interest in PD. Only 4 were urgent, the rest were routine, 38 of them were for first review. (The referrals for first visit were 27 from primary care and 11 from other consultants.)
There are other emergency admissions due to PD related condition that can be prevented with coherent service such as fall and cognitive impairment.
There will need to be an agreed medical management among neurologists, geriatricians and GPs to reduce variabilities in management PD.
McMahon's model of care in PD:
Diagnosis: Help patients to accept the diagnosis, educate, and support to reduce symptoms and their impact. Imaging.
Maintenance; ensure patients lead a normal life in this stage. By appropriate medication, support, preventing complications and follow-up.
Complex; agreement on medicine management is necessary at this stage to share knowledge and prevent variability. Targets are to prevent more complications and rapid deterioration. Psychiatrists or neurosurgeon may be required.
Palliative; integrated disciplinary in at this stage is important to switch management from active medical treatment to care and support. Provide better care, prevent unnecessary intervention and commissioning errors. Pain & spasm- palliative team/pain mx team. Advanced care plan
Patient flow: process map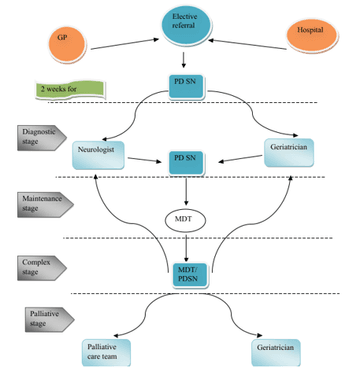 This initiative has to be monitored, both process and outcome. This can be achieved via service surveys and audits. This also has to include patients/ caregivers and staff satisfaction assessment.

More Parkinson's Academy Care pathways Projects
'The things you can't get from the books'
Parkinson's Academy, our original and longest running Academy, houses 20 years of inspirational projects, resources, and evidence for improving outcomes for people with Parkinson's. Led by co-founder and educational director Dr Peter Fletcher, the Academy has a truly collegiate feel and prides itself on delivering 'the things you can't get from books' - a practical learning model which inspires all Neurology Academy courses.