SMA in infants: a new era for management
News
---
---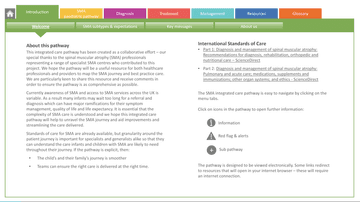 We have now developed a short, practical webinar to help healthcare professionals to understand what SMA is, how it presents, how to treat it, and why early detection, diagnosis and treatment are essential to children's outcomes.

Hosted by independent healthcare consultant Sue Thomas and with an expert panel of speakers who all contributed to the pathway's development, this essential guide to SMA - particularly when used alongside the paediatric pathway - is designed to increase awareness, improve understanding, and ultimately support improved care for infants and children with SMA.

Consultant Paediatric Neurologist Dr Vasantha Gowda provides a detailed overview of the condition and the latest treatments available, whilst Dr Min Ong, paediatric neurology consultant goes on to demonstrate paediatric SMA in practice through a series of case studies. Finally, Lisa Edel, Senior Specialist Paediatric Respiratory Neuromuscular Physiotherapist discusses the early identification of complications and respiratory management in children with SMA.

SMA and early access to life-changing treatment are making the headlines with baby Marcus receiving the first UK gene-therapy for SMA, Zolgensma. His story - that of early detection by his health visitor, followed by swift diagnosis by a specialist and immediate treatment. Marcus's story is one of many demonstrating the positive impact of good care across the health system. Other babies and adults are also receiving groundbreaking treatments with Nusinersin and Risdoplam highlighting that there is now new hope for those with this previously untreatable condition.
Ezra Thorman's story, and the case studies Dr Min Ong shares in her presentation in the webinar, all show the impact of nusinersen on children's abilities - and their quality of life. We want to enable all babies born with SMA to receive this swift access to treatment as part of a broader range of supportive and therapeutic management, by improving information and education for professionals around SMA.

In addition to the pathway and the webinar, Neuromuscular Academy is also developing an adult SMA pathway launching on Monday 16th August, and a 2 day training course starting on 23rd November. The packed SMA Basecamp programme is designed to improve diagnosis and management of SMA in people of any age, providing a dedicated training and support programme to neurology trainees and consultant neurologists to both encourage an interest in specialising in SMA for some and improving understanding of the condition for all.

Related articles
Raising awareness, improving outcomes
Neuromuscular Academy is the first bespoke course for healthcare professionals to receive expert training in neuromuscular conditions like spinal muscular atrophy.